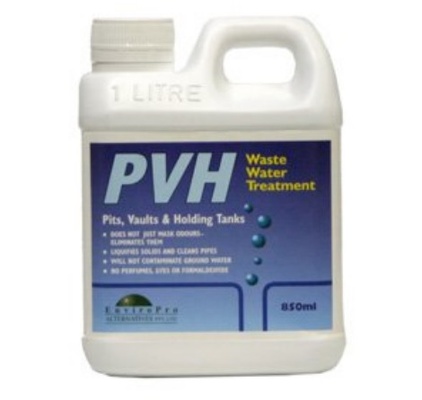 PVH Pits, Vaults and Holding tanks
Available
---
Product Description
PVH is a liquid additive containing inorganic and organic nutrients that are specifically engineered to stimulate facultative anaerobes (bacteria that breaks down waste). These nutrients create a thriving environment for the bacteria to breed and work actively digesting the waste and overcoming odour.
Applications:
Pit Toilets
Boat & Mobile Home Holding Tanks
Portable Camping toilets
Grease Traps & Grey Water lines
Composting Toilets
Drains
Benefits:
Does not just mask odours - it eliminates them
Liquifies solids and paper
Cleans Pipes
No perfumes, dyes or formaldehyde
Easy to use - no chemicals to mix
Will not contaminate ground water
Unaffected by temperature
Accelerates Composting Process
Dosage:
2,500 litre Holding Tank - 60ml with 1 litre of water each week
Boat Holding Tanks: Add 100ml for every 5,000 litre of capacity after each pump out.
Portable Toilets: 30ml will treat a 22litre Porta Potty, added only after each emptying
Composting Toilets: 50ml of PVH mixed with 1 litre water poured down toilet weekly
Grey Water Drains: 30ml mixed with 2 litres water flushed through drain, last thing at night for 3 nights then once each week.
Product Information
| | |
| --- | --- |
| Product Type | Accessory |
| Price (incl. tax) | A$285.00 |
| Price (incl. tax) | A$102.00 |
| Price (incl. tax) | A$26.00 |
| Number of reviews | 0 |
Customer Reviews
This product does not have any reviews yet.