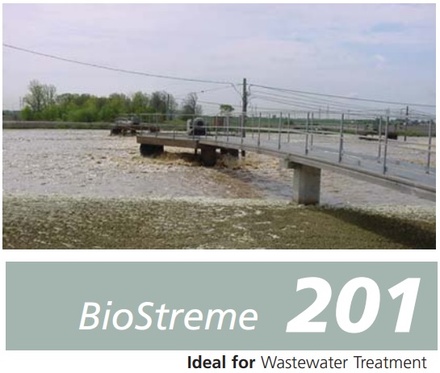 BioStreme 201 - Micro-nutrient Odour Control
Available
---
Product Description
An engineered micronutrient blend specifically designed to enhance microbial activity of wastewater treatment processes.Stimulates growth and reporduction of beneficial non-odour producing facultative bacteria in a cost-effective manner. It reduces bacterial stress and generation of odours from a variety of wastewaters, including Leachate Lagoons and Holding tanks.
PROVIDES A COST-EFFECTIVE means to manage odours and reduce BOD5 and COD levels, suspended solids, and sludge in Leachate Lagoons and Holding Tanks. This concentrated micronutrient formulation manages the basic biological processes in these applications -supporting effective populations of naturally-occurring, facultative bacteria that aid in rapid decomposition of biological waste without production of odourous by-products.
Dosage:
Typical applications involve introducing BioStremetm 201 to wastewater applications in 50-5 ppm range based on organic loading. The product is best applied where it can be completely mixed with wastewater. This can be accomplished by introducing BioStremetm 201 at the influent flow source pipe or channel, or by topical application and mixing by mechanical agitation. Retention time in storage basin or lagoon applications should be 1-3 days for the best results.
Application Areas:
Municipal Wastewater
Caravan Paks
Landfill Leachate
Pulp & Paper
Abattoirs
Rendering Plants
Food Processing Plants
Livestock Farms
Zoos
Benefits:
Controls Noxious Odours
Effective & Long Lasting
Enhances Microbial Activity
Natural & Biodegradable
Safe & Non Toxic
Note: Wastewater characteristics vary greatly depending on facility processes.
Please contact a EnviroPro Alternatives Sales Representative for specific dosage requirements for your site, or to arrange laboratory testing of wastewater samples taken from your facility.
> Contact us for larger quantities
Product Information
| | |
| --- | --- |
| Product Type | Accessory |
| Price (incl. tax) | A$102.00 |
| Price (incl. tax) | A$475.00 |
| Number of reviews | 0 |
Customer Reviews
This product does not have any reviews yet.